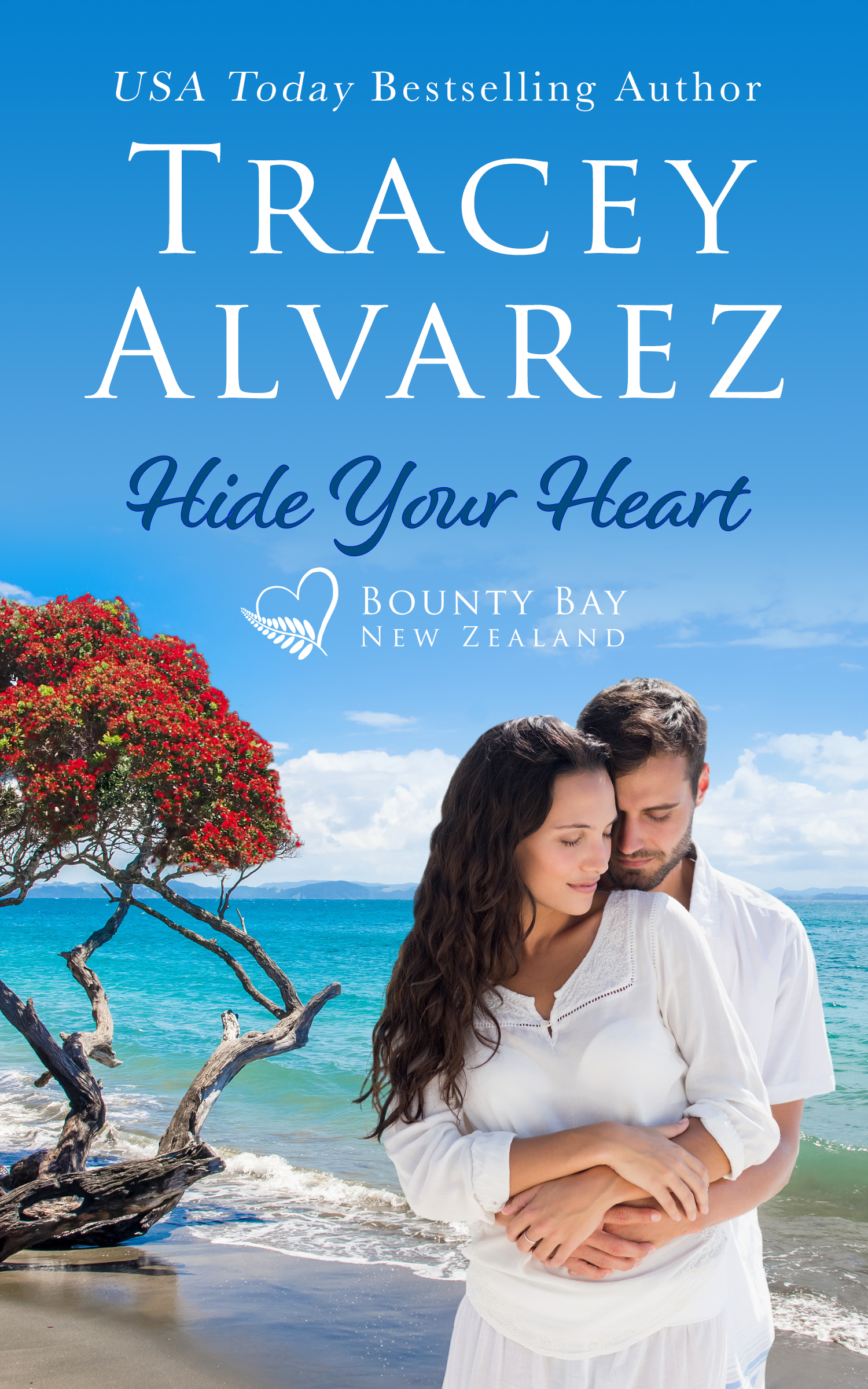 ---
---
---
Synopsis
---
---
Hiding in plain sight just got complicated…
Lauren Taylor and her young son have fled back to her hometown to escape fame's cruel spotlight, and all she wants to do is start over. No press, no pictures, no problem. Until Nate Fraser, a sexy photojournalist, moves in next door. Resisting his kisses and keeping her secrets soon become the hardest thing she's ever done.
Nate's got one foot out the door and one last assignment before he resumes his nomadic lifestyle, camera in hand. His every instinct screams that his beautiful but unwelcoming neighbor is hiding something. He couldn't care less when it's difficult enough to keep his eyes—and lips—off of her. No matter how much Nate attempts to keep his heart out of reach, he's drawn into her life. But a guy like him can never have what he wants most. Can he?
HIDE YOUR HEART is the first story in Tracey Alvarez's Bounty Bay series, set against the stunning backdrop of Aotearoa, New Zealand. If you like heartwarming, sweet and sexy small town romances, you'll love sharing the journey with these authentic men and women struggling to find their special someone. Welcome to Bounty Bay, where the reward of true love is a price only some are willing to pay.
Download your copy of Hide Your Heart today and uncover the secret lives and hidden passions simmering in New Zealand's sultry, subtropical Far North. Intended for mature 18+ aged readers who enjoy their feel good romance on the sensual side.
Praise for the Bounty Bay series!
"Reading a book by Tracey Alvarez is like taking a mini vacation to my imagined little happy place in New Zealand." ~ Spellbound Book Reviews
"Tracey now is included among some of my fav authors from the Southern Hemisphere. Rosalind James and Natalie Gayle fans will love Tracey's books." ~ Retailer review
"Tracey Alvarez has written a finely crafted, well written romance. Sexy and delightful and full of family values." ~The Book Date
"Her writing style will keep you hanging on to every word and feeling the characters' heartbreak right along with them." ~ Rachel Lawrence Books
Don't miss any of the Bounty Bay books!
Book 1: Hide Your Heart. Featuring Lauren and Nate.
Book 2: Know Your Heart. Featuring Savannah and Glen.
Book 3: Teach Your Heart. Featuring Gracie and Owen.
Book 4: Mend Your Heart. Featuring Natalie and Isaac. Coming 2017.
Book 5: Break Your Heart. Featuring Vanessa and Sam. Coming 2017.
---
---
Categories:  Fiction » Romance » Contemporary
---
---
Download Formats
---
---
---