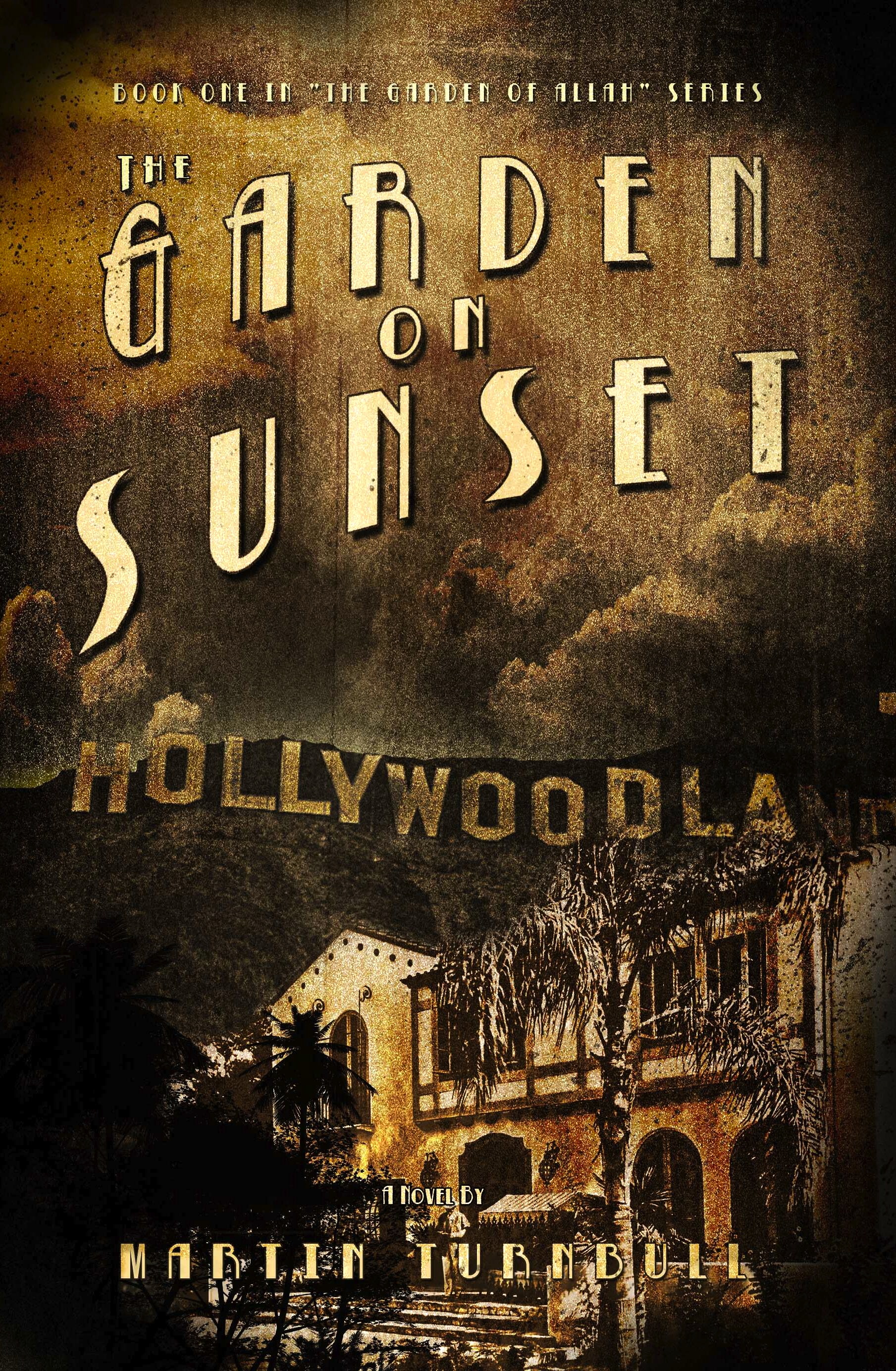 ---
---
---
Synopsis
---
---
In Hollywood, 1927, three naïve hopefuls band together to tread water against a tidal wave of threadbare casting couches, nervous bootleggers, human billboards, round-the-world zeppelins, sinking gambling boats, waiters in blackface, William Randolph Hearst, the Long Beach earthquake, starlets, harlots, Harlows and Garbos. But how will they get their feet inside Hollywood's golden door? 
Have you ever wanted to climb into a time machine and visit Hollywood during its heyday?
Right before talking pictures slug Tinsel Town in the jaw, a luminous silent screen star converts her private estate into the Garden of Allah Hotel. The lush grounds soon become a haven for Hollywood hopefuls to meet, drink, and revel through the night. George Cukor is in the pool, Tallulah Bankhead is at the bar, and Scott Fitzgerald is sneaking off to a bungalow with Sheilah Graham while Madame Alla Nazimova keeps watch behind her lace curtains.
But the real story of the Garden of Allah begins with its first few residents, three kids on the brink of something big.
Marcus Adler has a lot to prove after his father catches him and the police chief's son with their pants down. He flees Pennsylvania for Hollywood with his mouth shut and his eyes open, and begins to write the lines all those starlets will say out loud. Can a smart, sensitive guy find his own voice in a town that's just learning to talk?
Kathryn Massey's childhood was a grinding routine of auditions, but she couldn't care less about being a movie star. When she takes off with her typewriter, determined to become a newspaper reporter, she finds that breaking into the boys' club is tougher than breaking free of her bossy mother. To make it in this town, she'll need some serious moxie.
Gwendolyn Brick is a sweet Southern beauty who's come a long way to try her luck on the big screen. She's hoping the same succulent lips the guys want to kiss will land her more than a bit part on a casting couch. She's going to need some help keeping everyone in line.
Nobody gets a free pass in Hollywood, but a room at the Garden on Sunset can get your foot in the door.
"The Garden on Sunset" is the first in installment in the Hollywood's Garden of Allah saga, a series of historical novels set in Hollywood's heyday. If you like authentic and richly-detailed history, compelling and memorable characters, and seeing fiction and history seamlessly woven together, then you'll love Martin Turnbull's authentic portrayal of the City of Angels.
Flip through the pages to see Hollywood's history come to life before your eyes.
Martin Turnbull's Garden of Allah novels have been optioned for the screen by film & television producer, Tabrez Noorani.
INTERVIEW WITH THE AUTHOR
Your Garden of Allah novels are rich in the history and lore of classic era Hollywood. What was your original inspiration?
I came across an online article about the Garden of Allah Hotel, which opened on Sunset Boulevard in 1927, just before "The Jazz Singer" ushered in the talkies, and closed in 1959, the year that "Ben Hur" announced the last hurrah of the studio system. The Garden's residents witnessed the unfolding evolution of Hollywood, and actively participated in it.
How has writing these novels changed your view of this golden age that we perceive as the greatest era of film production?
L.A. was a much less densely populated city. Consequently, all movie industry workers were far more likely to know each other. People moved from MGM to Paramount to Twentieth Century-Fox to RKO to Warner Bros. Two or three degrees of separation were usually enough!
Why did you not go the safe route and change the names of the major players to suit your story?
The whole point of recounting the history of Hollywood through the eyes of the Garden's residents was because so many celebrities lived there. Harpo Marx and Sergei Rachmaninoff were neighbors, F. Scott Fitzgerald played charades with Dorothy Parker, Errol Flynn got drunk, Ginger Rogers was always looking for a tennis partner, and Bogart courted Bacall. I figured: Why tell it if I'm going to change the names?
Do you think stories set in old Hollywood are becoming more popular because of Turner Classic Movies?
Yes! TCM has produced a whole new audience for them. Consequently there is a greater interest in the time and place from which these movies sprung.
---
---
Categories:  Fiction » Historical » USA
---
---
Download Formats
---
---
---