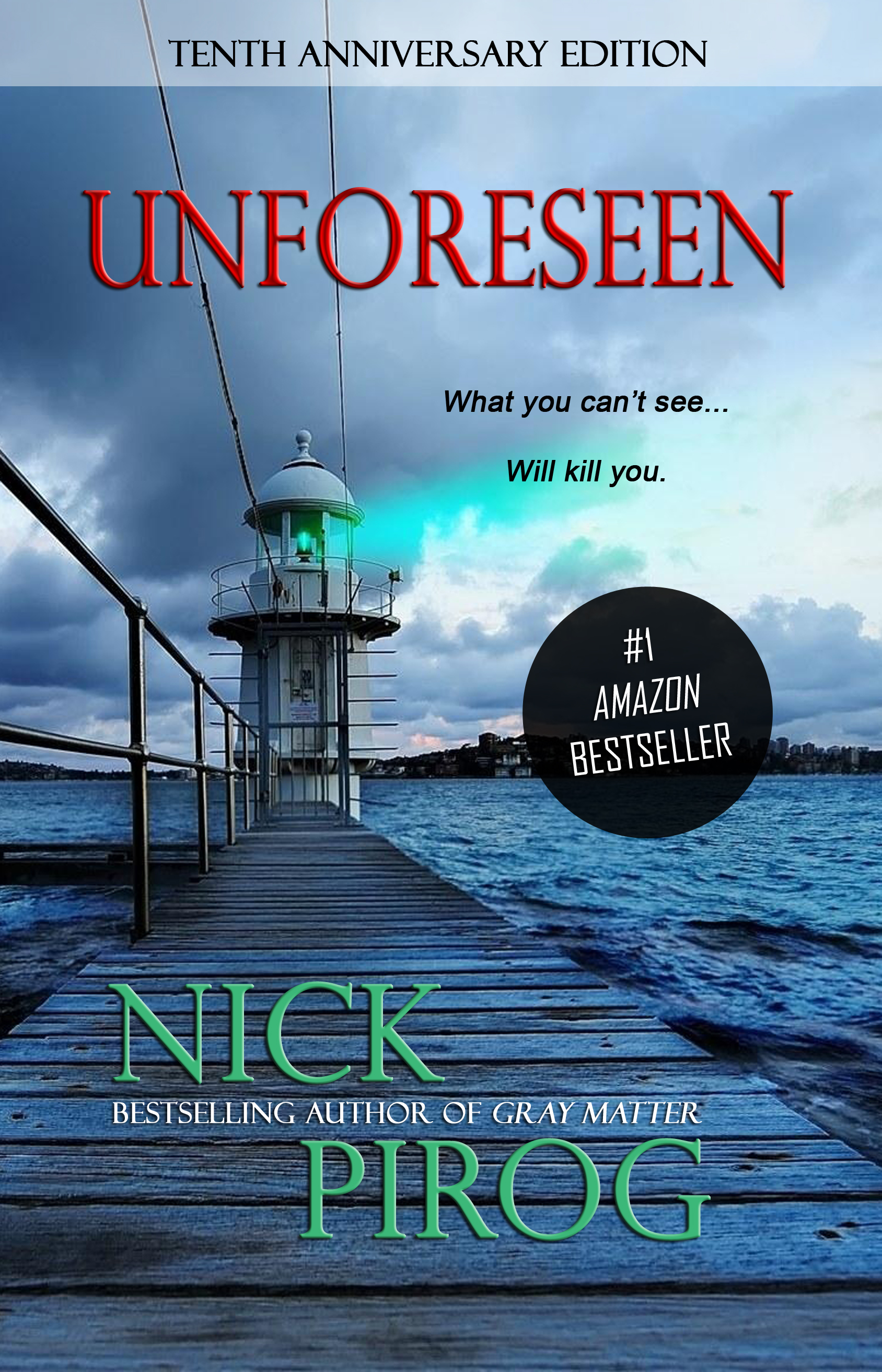 ---
---
Synopsis
---
As twisted and rugged as Maine s Atlantic coast, UNFORESEEN is a chilling, laugh-out-loud thriller, weaving its way to a shocking conclusion and thus announcing the arrival of Nick Pirog, a new breed of thriller writer, sure to enthrall readers for decades to come.
** DON'T MISS OUT ON THE BONUS DEALS ON THE ENTIRE THOMAS PRESCOTT SERIES!! **
Gray Matter (Thomas Prescott #2) – Just $2.99 (Reg. $5.99)
The Afrikaans (Thomas Prescott #3) – Just $3.99 (Reg. $7.99)
Show Me (Thomas Prescott #4) – Just $3.99 (Reg. $7.99)
"FUNNY, THRILLING, AND A GREAT NEW DETECTIVE!"-Amazon
"WHERE IS THE 10-STAR OPTION?"-Amazon
"A GREAT THRILLER!"-Amazon
"Unforeseen's main character, Thomas Prescott, had me laughing out loud and speed reading to the end. I read this book in a day, couldn't put it down. I read a lot of mystery thrillers and Pirog's unique style was refreshing. I found it to be funny, quirky, bawdy and yet he still pulled off the theme park thrill ride feeling of a great thriller and a well laid out mystery that left me guessing right up until the end. I look forward to reading more of his work and recommend this book to anyone who enjoys reading something out of the usual cookie cutter type style that so many authors seem to have fallen into. Pirog captured my attention from the first page and never lost it. An unusual and perfect mixture of witty humor to balance a murder mystery. I found myself laughing out loud many times throughout the book. I love this writer's style. I'm now reading the second Thomas Prescott novel! LOVE this book!" –Tif Saucier
Book Description:
A revised Tenth Anniversary Edition of the one that started it all…
Retired homicide detective Thomas Prescott is reluctant to read the best selling book Eight in October, a true-crime thriller based on a string of murders occurring throughout October of the past year. After all, it was his case, and he doesn t need to be reminded of the gruesome details. The book dubbed the serial killer, Tristen Grayer, The MAINEiac. Grayer is allegedly dead, but only Prescott knows the truth, Grayer is alive and lurking in the shadows. On October 1st, the anniversary of the first murder, Tristen resurfaces, killing someone special from Prescott's past. Suddenly, it s deja vu for Prescott except this time the women closest to him begin to fall victim at the hands of Grayer. With the help of former flame, medical examiner Dr. Caitlin Dodds, and Eight in October author, Alex Tooms, Prescott must race against the clock to stop Tristen from completing his encore.
More Customer Reviews:
I really enjoyed this book right from the beginning. My first by this author- certainly not my last though. I loved the humor. One would think a book about serial murders would not be funny but the humor was done appropriately and added so much to the characters and the story line. About 85% through the book I started saying thing like "oh no!", "oh my God!", "no way!" and "this can't be happening!". By then the book was not getting put down for any reason! The ending was deliously mysterious, surprising & so fitting! I need more Thomas Prescott! –Free2ride
I read alot of Thriller books. I like authors like: Harlan Coben, Stuart Woods, Jeffery Deaver, Richard North Patterson. If you like these authors, you will love this author!!! –Connie Pribbeno
Lots of kudos to Nick Pirog for giving us a facinating new detective. Thomas Prescott, a wise-cracking ex-policeman fired from the Seattle police department, takes jobs as a consultant to the FBI in Philly. His current project is identifying and neutralizing a serial killer with a perchant for murdering the women in Thomas' life. Trying to follow the clues while also protecting the lives of his blind sister, his mournful ex-girlfriend and his sexy current girlfriend as well as the female students in the law-enforcement class he teaches, makes for a real roller-coaster ride for Thomas and the reader. Always one step behind the wily killer and his ax, Thomas must put a period to this psycho before he loses more women he cares about. A tense read, sprinkled with Thomas's witticisms and hair raising close calls. Add a new detective to Mike Hammer, Spencer, and Travis McGee! –C. Orelli
---
---
---
Categories:  Fiction » Thriller & suspense » General
---
---
Download Formats
---
---